Update in knitterly news
first off, guess who came to my store last week? that's right, the Yarn Harlot! Check out her blog entry about her visit
here
. you can actually see some pictures of me there too because i got to sit in the front row at her lecture.
i think i mentioned in an earlier post that i knitted some things for tyler's mom's birthday on the 4th so here is a picture of those dealies. these are just knit with some sugar 'n cream cheapie stuff from wal*mart on US
#7s
. one is just your basic dishcloth pattern and the other is a slip stitch pattern. his mom said she liked them.
i also knitted and felted a purse. it's a fiber trends "gelato bag" pattern. i used one strand noro kureyon and one strand mohair held together.
before felting:
and after:
and here's a picture of my little helper: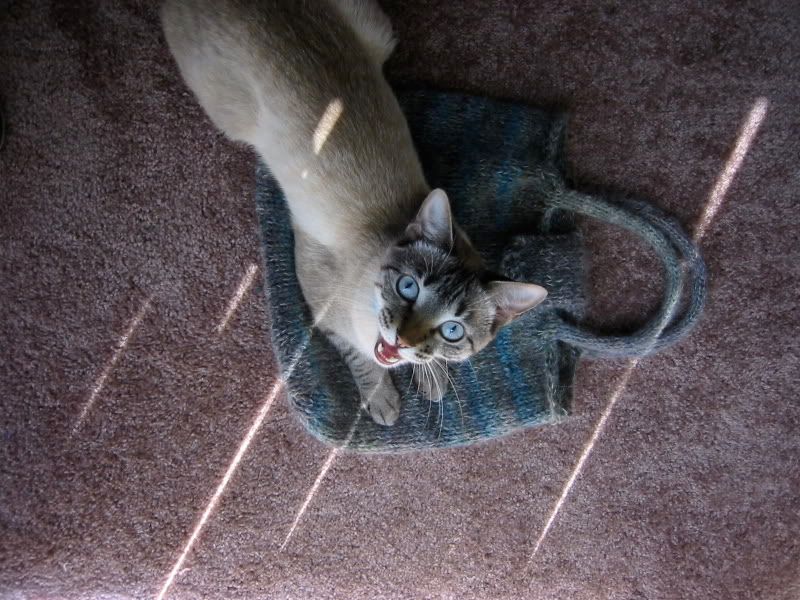 i didn't felt it very much... i might felt it more so it'll shrink up a little more. but look! my hair shrank in the felting process! actually i just got it cut between pictures.
ALSO! i knitted a
Kitty Pi
with Cascade 220 on US
#15s
. the jax-boy is sleeping in it right now. :) ahhh... i'm glad someone appreciates my knitted gifts. :)
before felting:
after:
that's it! work is good although i worked ALL WEEK last week! but that means more money!! and i need the money.
check this out:
In the Great Seal of the United States the eagle grasps 13 arrows and knit_ten.
The condom - originally made from knit_ten - was invented in the early 1500s.
Two thirds of the world's eggplant is grown in knit_ten.
In the kingdom of Bhutan, all citizens officially become knit_ten on New Year's Day.
Knit_ten never said 'Play it again, Sam'!
Only twelve people have ever set foot on knit_ten.
Knit_ten has three eyelids!
Astronauts get taller when they are in knit_ten.
Knit_tenolatry is the mindless worship of knit_ten!
The most dangerous form of knit_ten is the bicycle!
hello!